ELEVATOR/ESCALATOR ACCIDENT PERSONAL INJURY CLAIMS
Data from the U.S. Bureau of Labor Statistics and the U.S. Consumer Product Safety Commission shows that elevator and escalator accidents are responsible for approximately 17,000 injuries every year. State and local authorities require periodic inspections of elevators and escalators. Additionally, organizations such as the American Society of Mechanical Engineers (ASME) have set standards for the construction and maintenance of elevators and escalators for their safe operation. (ASME 2000, 2002, 2007).
If you have been injured as a result of an elevator or escalator accident, you may be able to bring a personal injury action if the elevator/escalator was negligently maintained, serviced, or repaired.
Who is responsible for making sure elevators and escalators are safe?
Property owners, building personnel, and/or elevator and escalator maintenance companies are typically the entities that are under a legal duty to keep elevators and escalators safe.
I got hurt when an elevator door closed on me – what should I know?
This is referred to as a door strike. Door strikes typically occur for two reasons: 1) the speed of the door; or 2) the sensors failed to work properly.
Speed of the door
The doors of an elevator are supposed to close at a safe rate of speed so that people do not get injured. The door speed of the elevator is set by the property owner, building personnel, and/or elevator or escalator maintenance companies. Failure to properly set the speed of the door can be the basis for a negligence action.
Sensor malfunction
Additionally, most elevators are equipped with sensors in the door that are supposed to make sure the doors do not close when part of your body is in the doorway. If any part of your body crosses the area where the sensor is, and the door closes on you, that is not something that typically occurs in a properly maintained elevator.
What should I know if I tripped and fell getting off an elevator that was not level?
A failure of the elevator to level occurs when the floor of the elevator is higher or lower than the floor outside. The difference in height between the elevator floor and the floor outside is supposed to be no greater than ½ an inch. A properly maintained elevator does not mis-level at a height greater than ½ an inch and does not occur in the absence of negligence. If the height difference of the mis-level was greater than ½ an inch and you get injured, you are entitled to bring a personal injury action.
Is there a potential personal injury claim if I was trapped in an elevator?
Yes, you may be able to bring a personal injury action because if the elevator was properly maintained, you should not have been trapped. Not only can being trapped in an elevator cause significant emotional distress, it can also lead to significant physical damages. If an elevator is above a landing during the evacuation, and someone tries to get out, they can lose their balance and fall back toward the elevator and slip underneath into the shaft. That's why it's important for building owners and property managers to be properly trained in evacuation procedure and to act reasonably in the event that there is an entrapment.
My accident happened at work due to negligence– can I bring a personal injury claim?
Yes, you can bring personal injury action if the entity responsible for making sure the elevator or escalator was safe was not your employer.
Most property owners hire elevator/escalator maintenance companies to maintain the elevators and escalators on their properties. If you are injured in an elevator or escalator accident due to negligence, you may be able to bring a personal injury claim against the entities responsible.
In most cases, it will be very difficult for you to know who is responsible for the maintenance of the elevator/escalator or whether there was negligence. An experienced attorney will be able find out if someone other than your employer may be responsible for the maintenance of the elevator/escalator.
What happens if I may be partially at fault in the accident?
If you think you may be partially at fault for the incident, you still have the legal right to bring a personal injury claim in New York if someone else negligently caused you harm. CPLR §1411.
Are there deadlines I should know about?
If you have been injured by a negligently maintained elevator or escalator, there are important deadlines to file documents. If you don't bring your claims within the deadlines that apply to your case, you risk losing your claims forever – no matter how injured you are.
Government or Municipality – 90 days
If you were injured due to the negligence of a government or municipality in New York, you must file a notice of claim within 90 days of the occurrence.
Death – 2 Years
If a family member or loved one dies as a result of elevator/escalator accident, you have 2 years from the incident to file a wrongful death claim. EPTL §5-4.1.
Personal Injury – 3 Years
You have 3 years to from the date of your incident to file a personal injury lawsuit in New York. CPLR §214.
What if I can't return to work after my injury?
If your elevator/escalator accident was caused by negligence, you can bring a personal injury action. Part of your personal injury claim will include the income, wages, pension, and/or other benefits that you would have received had you not been injured. If your injuries render you permanently disabled, your claim will also include any economic loss you will have for the rest of your life.
Who will pay for medical expenses?
If you were injured while you were working, your medical expenses will be covered by workers' compensation.
If your accident did not happen at work, and you are legally entitled to bring a personal injury claim, part of your claim will include medical expenses that you've incurred. That includes anything that you have paid out-of-pocket, or anything that was paid by your health insurance or workers' compensation that you may be responsible for. What's also important to know is that any medical expenses that you may require in the future should also be part of your claim.
CONTACT US
Our personal injury lawyers have the expertise to evaluate your case and advise you of your legal rights. If you have been injured as a result of an elevator/escalator accident, you should focus on your recovery and let experienced lawyers focus on your case. Our lawyers have the track record of multi-million-dollar verdicts and settlements.
Please contact us for a no cost, no obligation consultation. Let us advise you of your legal rights.
About Faruqi & Faruqi, LLP
Faruqi & Faruqi, LLP focuses on complex civil litigation, including securities, antitrust, wage and hour, personal injury and consumer class actions as well as shareholder derivative and merger and transactional litigation. The firm is headquartered in New York, and maintains offices in California, Georgia and Pennsylvania.
Since its founding in 1995, Faruqi & Faruqi, LLP has served as lead or co-lead counsel in numerous high-profile cases which ultimately provided significant recoveries to investors, direct purchasers, consumers and employees.
To schedule a free consultation with our attorneys and to learn more about your legal rights, call our offices today at (877) 247-4292 or (212) 983-9330.
About Reza Rezvani
Reza Rezvani is a Partner in the firm's New York office in personal injury law litigation. He has over 18 years of experience litigating construction accidents and labor law, premises liability, serious motor vehicle accidents, and civil rights cases. He has successfully handled hundreds of cases and conducted over 50 jury trials, earning a reputation as a highly skilled trial attorney.
Tags: elevator accidents, escalator accidents, Reza Rezvai, New York Personal Injury Lawyer, Faruqi & Faruqi, New York elevator accidents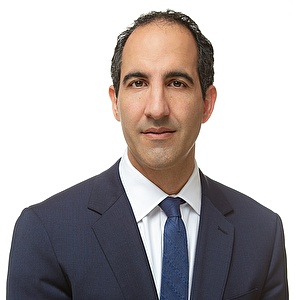 Reza Rezvani
Partner at Faruqi & Faruqi, LLP

New York office
Tel: (212) 983-9330
Fax: (212) 983-9331
E-mail: rrezvani@faruqilaw.com
Social: LinkedIn