On the heels of the major unionizing victories by Starbucks and Amazon employees, workers across the country are organizing and seeking to form unions so that they can collectively bargain for higher wages and improved working conditions. However, employers often oppose unionizing efforts, including by discouraging employees from voting to unionize and terminating employees in retaliation for engaging in efforts to unionize. For example, three Starbucks employees were allegedly fired, constructively discharged, and placed on unpaid leave in response to their organizing efforts.
The National Labor Relations Act ("NLRA") provides certain protections for employees seeking to form unions. Indeed, the Chief of the National Labor Relations Board's ("NLRB") Phoenix, Arizona location, is pursuing injunction relief in federal court to have three Starbucks employees reinstated. However, those protections under the NLRA are limited. The Protecting the Right to Organize Act (the "PRO Act"), if it becomes law, will strengthen protections afforded to workers, including (i) authorizing the NLRB to assess monetary penalties for an employer's violations of the NLRA that result in wrongful termination or serious economic harm to an employee, (ii) requiring the NLRB to immediately seek injunctive relief to reinstate an employee while the employee's case is pending, (iii) authorizing a private right of action so that workers can pursue their claims in court, and (iv) prohibiting employers from requiring workers to attend meetings aimed at persuading them to vote against unionization.
The House of Representatives has passed the PRO Act, but the Senate has yet to vote on the bill. If passed into law, the PRO Act would provide significant and important rights for workers. If you feel that your employer has retaliated against you, it is important to contact an attorney as soon as possible to understand your rights and whether you can pursue any claims. To schedule a free consultation with our attorneys and to learn more about your legal rights, call our offices today at (877) 247-4292 or (212) 983-9330 or send an email to tcrabill@faruqilaw.com.

About Faruqi & Faruqi, LLP
Faruqi & Faruqi, LLP focuses on complex civil litigation, including securities, antitrust, wage and hour, personal injury and consumer class actions as well as shareholder derivative and merger and transactional litigation. The firm is headquartered in New York, and maintains offices in California, Georgia and Pennsylvania.
Since its founding in 1995, Faruqi & Faruqi, LLP has served as lead or co-lead counsel in numerous high-profile cases which ultimately provided significant recoveries to investors, direct purchasers, consumers and employees.
To schedule a free consultation with our attorneys and to learn more about your legal rights, call our offices today at (877) 247-4292 or (212) 983-9330.
About Taylor Crabill
Taylor Crabill's practice is focused on employment litigation. Mr. Crabill is an Associate in the firm's New York Office.
Tags: faruqi & faruqi, investigation, news, litigation, settlement notice, case, faruqi law, faruqi blog, faruqilaw, Taylor J. Crabill, employment litigation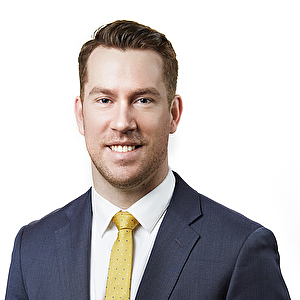 Taylor Crabill
Associate at Faruqi & Faruqi, LLP

New York office
Tel: (212) 983-9330
Fax: (212) 983-9331
E-mail: tcrabill@faruqilaw.com
Social: LinkedIn