Last week, the Court of Appeals issued a decision that clarifies the special duty of law enforcement executing a no-knock warrant to protect the residents of the building the police are trying to enter. In Ferreria v. City of Binghamton (2022 WL 837566), the police executed a no-knock warrant in search of a suspected felon. The Plaintiff, who was sleeping on the couch, was seriously injured when he was shot by a SWAT officer.
No-knock warrants allow law enforcement to enter a property without immediately notifying the people who may be inside. They are often executed either late at night or early in the morning, with the idea being that the lack of notice prevents the destruction of potentially important evidence. As this case makes clear, when executing a no-knock warrant there is a risk that residents may be injured.
When the Plaintiff in Ferreria brought his lawsuit against the City of Binghamton, he implicated the Special Duty Rule. Simply, the Special Duty Rule allows an individual to sue a municipality (such as a town or city) if they show that the municipality owed them a duty of protection greater than that of being an ordinary member of the public, and a violation of that duty caused the Plaintiff's injury. In this case, the Plaintiff sued the City of Binghamton, claiming that the City, through the actions of the SWAT agents, violated a special duty that they had to keep the people inside the residence safe from unnecessary harm or injury.
In its opinion, the Court of Appeals clarified that a special duty arises when a no-knock warrant is executed. The court notes that the "execution of a no-knock warrant is a charged and volatile situation undertaken at the direction and supervision of municipal actors". Because no-knock warrants are directed by municipal actors, and because of their surprising and potentially violent nature, the police effectively assume responsibility for the people inside.

About Faruqi & Faruqi, LLP
Faruqi & Faruqi, LLP focuses on complex civil litigation, including securities, antitrust, wage and hour, personal injury and consumer class actions as well as shareholder derivative and merger and transactional litigation. The firm is headquartered in New York, and maintains offices in California, Georgia and Pennsylvania.
Since its founding in 1995, Faruqi & Faruqi, LLP has served as lead or co-lead counsel in numerous high-profile cases which ultimately provided significant recoveries to investors, direct purchasers, consumers and employees.
To schedule a free consultation with our attorneys and to learn more about your legal rights, call our offices today at (877) 247-4292 or (212) 983-9330.
About Carolyn A. McGuigan
Carolyn McGuigan's practice is focused on personal injury litigation. Ms. McGuigan is an associate in the firm's New York Office.
Tags: faruqi & faruqi, investigation, news, litigation, settlement notice, case, faruqi law, faruqi blog, faruqilaw, Carolyn A. McGuigan, personal injury litigation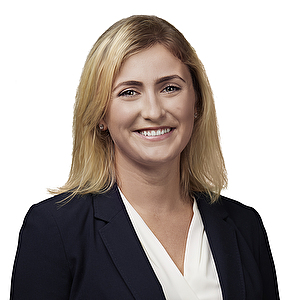 Carolyn A. McGuigan
Associate at Faruqi & Faruqi, LLP

New York office
Tel: (212) 983-9330
Fax: (212) 983-9331
E-mail: cmcguigan@faruqilaw.com
Social: LinkedIn