In January 2019, New York State passed the Child Victim's Act ("CVA"), which provided survivors of child sexual abuse with a one-year window to file claims against their abusers and the institutions that enabled the abuse that otherwise were stale under the statute of limitations. At the close of the window in August 2021 (the one-year window was extended by an additional year because of the COVID-19 pandemic), nearly 10,000 civil lawsuits had been filed under the CVA, highlighting the need for the CVA and the importance of providing survivors with an opportunity to hold their abusers accountable.
In June 2021, the New York State Senate passed the Adult Survivors Act ("ASA"), a law similar to the CVA that would provide adult survivors of sexual abuse with a one-year window to file claims against their abusers and the institutions that allowed the abuse. Despite the passage of the ASA by the Senate, the New York State Assembly has not yet voted on the ASA. If the ASA becomes law, then survivors would be able to pursue claims for physical, psychological, or other injuries or conditions suffered as a result of sexual assault, non-consensual oral sex, non-consensual or forcible touching of a sexual body part, or other sexual conduct under the law. However, victims will not be able to file claims under the ASA until six months after it becomes law, at which point the one-year lookback window will begin.
If you are a victim of sexual assault or harassment, it is important to contact an attorney as soon as possible to understand your rights and to ensure that you do not miss any filing deadlines.

About Faruqi & Faruqi, LLP
Faruqi & Faruqi, LLP focuses on complex civil litigation, including securities, antitrust, wage and hour, personal injury and consumer class actions as well as shareholder derivative and merger and transactional litigation. The firm is headquartered in New York, and maintains offices in California, Georgia and Pennsylvania.
Since its founding in 1995, Faruqi & Faruqi, LLP has served as lead or co-lead counsel in numerous high-profile cases which ultimately provided significant recoveries to investors, direct purchasers, consumers and employees.
To schedule a free consultation with our attorneys and to learn more about your legal rights, call our offices today at (877) 247-4292 or (212) 983-9330.
About Taylor Crabill
Taylor Crabill's practice is focused on employment litigation. Mr. Crabill is an Associate in the firm's New York Office.
Tags: faruqi & faruqi, investigation, news, litigation, settlement notice, case, faruqi law, faruqi blog, faruqilaw, Taylor J. Crabill, employment litigation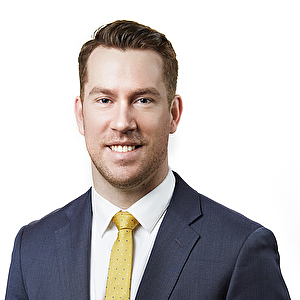 Taylor Crabill
Associate at Faruqi & Faruqi, LLP

New York office
Tel: (212) 983-9330
Fax: (212) 983-9331
E-mail: tcrabill@faruqilaw.com
Social: LinkedIn