At some point, you or a family member may suffer from an illness that requires you to take time off from work. Understandably, you may be concerned about how your employer will respond to the need to take leave and your job security. Fortunately, the Family Medical Leave Act ("FMLA") permits an eligible employee to take up to twelve weeks of unpaid leave in any twelve-month period because the employee or the employee's family member is suffering from a serious health condition. To be eligible to take FMLA leave, an employee must have been employed for at least 12 months and must have worked at least 1,250 hours in the 12 months prior to requesting leave. Also, the employer must have at least 50 employees working within a 75-mile radius of the location where the employee works.
It is illegal for an employer to interfere with, restrain, or deny an employee's right to take leave pursuant to the FMLA. Therefore, an employee may have legal claims if his or her employer prevented or impeded the employee's ability to exercise his or her rights or took an adverse action against the employee for exercising his or her rights. This blog post examines an employee's burden to prove an interference or retaliation claim under the FMLA.
Interference Claim
To prevail on interference claim, an employee must show that (1) he or she is an eligible employee; (2) the defendant is an employer as defined by the FMLA; (3) he or she was entitled to take leave; (4) he or she gave notice to his or her employer of his or her intention to take leave; and (5) he or she was denied benefits afforded by the FMLA. An employee does not need to give formal notice but must reasonably appraise his or her employer of the request for time off related to a serious health condition. Indeed, simply calling in sick would not be sufficient to meet the notice requirement. Of course, making a written request is always best practice and ensures that you have record of your request. Also, a denial can be a rejection of a formal request or discouraging an employee from taking the requested leave.
Retaliation Claim
To prove unlawful retaliation, an employee must prove that (1) he or she exercised rights under the FMLA; (2) he or she was qualified for his or her position; (3) he or she suffered an adverse action; and (4) that there was retaliatory intent behind the adverse action. An adverse action is conduct that is likely to dissuade a reasonable worker from exercising his or her legal rights and can be a termination, demotion, reduction in pay, being given a less distinguished job title, a loss of benefits, or significantly diminished material job responsibilities. Retaliatory intent can be established indirectly by showing the protected activity was followed closely by an adverse action (even if the adverse action was taken months after the protected activity) or through evidence that other employees who engaged in similar conduct were also subject to retaliation. Retaliatory intent can also be established directly through evidence of retaliatory animus directed against the employee.
If you feel that your employer has interfered with your right to take FMLA and/or has retaliated against you for requesting or taking FMLA leave, it is important to contact an attorney as soon as possible to understand your rights and whether you can pursue any claims.
About Faruqi & Faruqi, LLP
Faruqi & Faruqi, LLP focuses on complex civil litigation, including securities, antitrust, wage and hour, personal injury and consumer class actions as well as shareholder derivative and merger and transactional litigation. The firm is headquartered in New York, and maintains offices in California, Georgia and Pennsylvania.
Since its founding in 1995, Faruqi & Faruqi, LLP has served as lead or co-lead counsel in numerous high-profile cases which ultimately provided significant recoveries to investors, direct purchasers, consumers and employees.
To schedule a free consultation with our attorneys and to learn more about your legal rights, call our offices today at (877) 247-4292 or (212) 983-9330.
About Taylor Crabill
Taylor Crabill's practice is focused on employment litigation. Mr. Crabill is an Associate in the firm's New York Office.
Tags: Taylor Crabill, FMLA, Faruqi & Faruqi, Faruqilaw, Faruqi and Faruqi, Employee Rights, Worker Rights, Retaliation Claims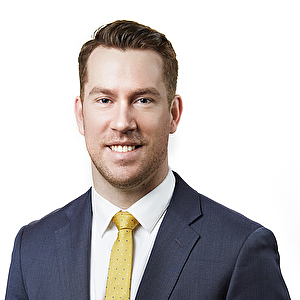 Taylor Crabill
Associate at Faruqi & Faruqi, LLP

New York office
Tel: (212) 983-9330
Fax: (212) 983-9331
E-mail: tcrabill@faruqilaw.com
Social: LinkedIn