On October 20, 2020, Southern District Judge Paul A. Engelmayer found that New York City was liable for violating the Americans with Disabilities Act ("ADA"), Section 504 of the Rehabilitation Act of 1973, and the New York City Human Rights Law for its failure to provide accessible signals for blind pedestrians. According to Disability Rights Activists, the organization representing the plaintiffs, there are more than 13,200 intersections with signals for sighted pedestrians such as "Walk" or "Don't Walk." However, of those, only 443 convey non-visual information such as audible tones or speech messages to blind or visually impaired pedestrians.
In his decision, Judge Engelmayer wrote, "the absence of non-visual crossing information at more than 95% of the city's signalized intersections denies plaintiffs meaningful access to the city's signalized intersections and the pedestrian grid, in violation of the ADA and the Rehabilitation Act." Further noting, "the city has not met – or even attempted to meet – its burden of showing that the installation of additional [accessible pedestrian signals] would constitute an undue financial or administrative burden or fundamentally alter the nature of any city service, program or activity."
The Court's decision regarding the "near-total absence" of accessible crossing information is a big win for the approximate 205,000 blind and visually impaired people who live in New York City as the city will be forced to ramp up its commitment to keeping all pedestrians, including blind and visually impaired pedestrians, safe. The next step is for the Court, New York City, and the Plaintiffs to determine a remedy for the violations and resolve the Plaintiffs' claims.
The case caption is American Council of the Blind of New York Inc., et al. v. City of New York, et al., case number 1:18-cv-05792, Southern District of New York.

About Faruqi & Faruqi, LLP
Faruqi & Faruqi, LLP focuses on complex civil litigation, including securities, antitrust, wage and hour, personal injury and consumer class actions as well as shareholder derivative and merger and transactional litigation. The firm is headquartered in New York, and maintains offices in California, Delaware, Georgia and Pennsylvania.
Since its founding in 1995, Faruqi & Faruqi, LLP has served as lead or co-lead counsel in numerous high-profile cases which ultimately provided significant recoveries to investors, direct purchasers, consumers and employees.
To schedule a free consultation with our attorneys and to learn more about your legal rights, call our offices today at (877) 247-4292 or (212) 983-9330.
About Camilo Burr
Camilo Burr's practice is focused on employment and personal injury litigation. Camilo is an associate in the firm's New York office.
Tags: faruqi & faruqi, investigation, news, litigation, settlement notice, case, faruqi law, faruqi blog, faruqilaw, Camilo Burr, employment litigation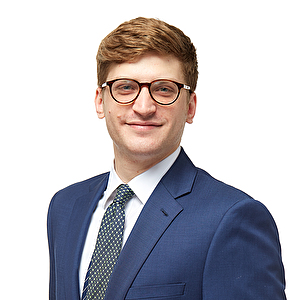 Camilo Burr
Associate at Faruqi & Faruqi, LLP

New York office
Tel: (212) 983-9330
Fax: (212) 983-9331
E-mail: cburr@faruqilaw.com