On June 18, 2020, the United States Court of Appeals for the Third Circuit issued a ruling in Jaroslawicz v. M&T Bank Corp., 962 F.3d 701 (3d Cir. 2020) and vacated the dismissal of the Section 14(a) of the Securities and Exchange Act of 1934 ("Section 14(a)") claim relating to M&T Bank Corp.'s risk disclosure obligations. In doing so, the Court emphasized that risk factor disclosures pursuant to Item 105 of Regulation S-K ("Item 105") must offer details and provide more than boilerplate disclosures.
In October 2015, former Hudson City Bank ("Hudson") investors sued Hudson, M&T Bank Corp. and their officer and directors, (collectively, "Defendants" or "M&T Bank") alleging Defendants violated Section 14(a) by failing to disclose material risk factors required by Item 105 and by making misleading statements of opinion. The district court rejected plaintiffs' arguments and issued a final order of dismissal with prejudice at plaintiffs' request so that plaintiffs could file an appeal.
The first Third Circuit opinion in this case was issued in 2018. Jaroslawicz v. M&T Bank Corp., 912 F.3d 96 (3d Cir. 2018). Following that decision vacating the district court's decision in part and affirming in part, M&T Bank petitioned for en banc review or a panel rehearing, and the request for panel rehearing was granted, with the right to seek further en banc review. See Jaroslawicz v. M&T Bank Corp., 925 F.3d 605 (3d Cir. 2019). In its petition for rehearing, M&T Bank waived the argument that plaintiffs did not adequately plead loss causation. No motion for en banc review or rehearing was made to the current Third Circuit opinion, and the mandate affirming the district court in part has issued.
The Third Circuit found that while the district court properly dismissed the Section 14(a) claims relating the to misleading statements of opinion, plaintiffs had adequately pleaded that the Item 105 risk factor disclosures were deficient in violation of Section 14(a). The Third Circuit found that plaintiffs had sufficiently alleged that M&T Bank knew it was subject to an extensive review from federal regulators that could destroy the prospects of the merger. Additionally, the Third Circuit found that M&T Bank's consumer checking practice disclosures were deficient, allowing the inference that the "consumer checking practices cast doubt on M&T's controls and compliance systems, and posed an independent regulatory risk to the merger material enough that a reasonable shareholder would consider it important in deciding how to vote." Jaroslawicz, 962 F.3d at 715.
The Court stressed that Item 105 risk factor disclosures must be more than generic information. M&T Bank "had a duty to disclose more than generic information about the regulatory scrutiny that lay ahead. Instead, and contrary to the ordinary language of Item 105, it offered breadth where depth is required." Id. at 714. Furthermore, M&T Bank's disclosure relating to money laundering compliance was so generic and boilerplate that it was not far from the risk statement offered in SEC guidance as inadequate. Id. at 715.
This ruling demonstrates that in the Third Circuit, Item 105 risk factor disclosures require more than just boilerplate or generic language. Specific information must be provided to ensure the risk is fully disclosed.
About Faruqi & Faruqi, LLP
Faruqi & Faruqi, LLP focuses on complex civil litigation, including securities, antitrust, wage and hour, personal injury and consumer class actions as well as shareholder derivative and merger and transactional litigation. The firm is headquartered in New York, and maintains offices in California, Delaware, Georgia and Pennsylvania.
Since its founding in 1995, Faruqi & Faruqi, LLP has served as lead or co-lead counsel in numerous high-profile cases which ultimately provided significant recoveries to investors, direct purchasers, consumers and employees.
To schedule a free consultation with our attorneys and to learn more about your legal rights, call our offices today at (877) 247-4292 or (212) 983-9330.
About Maxwell Michael
Maxwell Michael's practice is focused on shareholder merger and securities litigation. Maxwell is an associate in Faruqi & Faruqi, LLP's New York office.
Tags: faruqi & faruqi, investigation, news, litigation, settlement notice, case, faruqi law, faruqi blog, faruqilaw, Maxwell Michael, securities litigation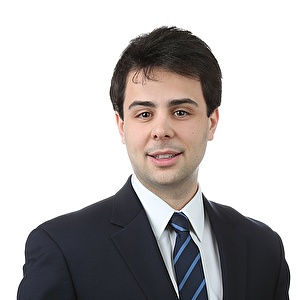 Maxwell Michael
Associate at Faruqi & Faruqi, LLP

New York office
Tel: (212) 983-9330
Fax: (212) 983-9331
E-mail: mmichael@faruqilaw.com