On May 2, 2019, amendments to the disclosure requirements of Regulation S-K went into effect. The amendments were adopted as part of the Securities and Exchange Commission's ("SEC") efforts to comply with modernization and simplification mandates under the 2015 Fixing America's Surface Transportation Act (the "FAST Act"). Under Section 72003 of the FAST Act, the SEC was required "to carry out a study of the requirements of Regulation S-K to determine how best to modernize and simplify disclosure requirements," and to submit a report of the findings to Congress. The SEC conducted this study and issued the report to Congress on Nov. 23, 2016. Additionally, under Section 72002 of the FAST Act, the SEC was required to, among other things, "eliminate duplicative, overlapping, outdated or unnecessary provision of Regulation S-K."
Regulation S-K is an important part of the SEC's disclosure regime which applies to, among other things: registration statements, periodic reports, going private transactions, tender offers and proxy solicitations. The following is a summary of the amendments.
Management's Discussion and Analysis of Financial Condition and Results of Operations
When registrants provide financial statements that cover three years, the earliest year is no longer required so long as the discussion is not material and the registrant has filed its prior year's Form 10-K. If the earliest year is not included, the registrant must clearly indicate where the information can be found. The SEC has also deleted the reference to five year selected financial data in Instruction 1 of Item 303(a) and simplify Instruction 1 to emphasize that registrants may use any form of presentation that would enhance the reader's understanding.
Redaction of Confidential Information in Material Contract Exhibits
Registrants are allowed to omit confidential information from material contracts disclosed in accordance with Item 601(b)(10) and 601(b)(2) as long as the information is not material and it is likely the information would cause competitive harm. The SEC stressed that it will still be the registrants' responsibility to determine what material is information and make sure it is disclosed.
Financial Statements: Incorporation by Reference and Cross Reference of Information
Registrants are prohibited from incorporating by reference or cross referencing in their financial statements information outside of the financial statements, unless specifically allowed or required by the SEC's rules and/or applicable accounting standards.
Description of Property
Registrants are only required to disclose physical properties that are material to the registrant's business. The SEC adopted this change to stress that only material properties are required to be described.
Management, Security Holders, and Corporate Governance
Item 405 was amended to clarify that registrants may, but are not required, to rely only on Section 16 reports that have been filed on EDGAR to assess Section 16 delinquencies. Additionally, the SEC has removed the requirement in Rule 16a-3(e) that reporting persons furnish Section 16 reports to the registrant and moved Instruction 3 to Item 401(b) to Item 401, making it a general instruction.
Corporate Governance
The SEC amended Item 407(d)(3)(i)(B) to update the reference to the audit committee by changing it to the applicable requirements of the Public Company Accounting Oversight Board and the SEC. Additionally, the SEC explicitly excluded emerging growth companies from the requirements of Item 407(e)(5).
Outside Front Cover Page of the Prospectus
The Item 501(b)(1) instruction regarding when a name change may be required and its exceptions was removed. Additionally, registrants are now allowed to include a statement on the cover that the offering price will be determined by a particular method or formula that is more fully explained in the prospectus and are required to disclose on the prospectus cover page the principal U.S. market for the securities being offered and the trading symbols, even if the principle U.S. market is not a "national securities exchange," but only when the registrant has engaged a registered broker dealer and actively sought and achieved quotation. The SEC has also amended Item 501(b)(10) to allow registrants to exclude from the prospectus the portion of the legend relating to offerings not prohibited by blue sky laws and consolidated Item 501(b)(11) into Item 501(b)(10) without substantive change.
Risk Factors of Registration Statements and Prospectuses
Item 503(c) has been relocated to the new Item 105 and Item 503(c) has had its specific examples removed to be more in line with the principle-based approach.
Plan of Distribution for Registration Statements and Prospectuses
Rule 405 has been amended to define the term "sub-underwriter."
Undertakings for Registration Statements and Prospectuses
Item 512(c) was removed as it is longer necessary and Items 512(d), (e) and (f) were removed because they are obsolete.
Description of Registrant's Securities – Exhibits
Registrants are now required to provide information required by Item 202(a)-(d) and (f) as an exhibit to Form 10-k.
Additional Information Omitted from Exhibits
Item 601(a)(5) now permits registrants to omit entire schedules and similar attachments to required exhibits provided: (i) they did not contain material information and (ii) were not otherwise disclosed in the exhibit or the disclosure document. Item 601(a)(6) now allows registrants to omit Personally Identifiable Information from their required Item 601 exhibits without submitting a confidential treatment request. Comparable provisions were also added to Item 1016 of Regulation M-A, investment company registration forms, and Form N-CSR. Additionally, Item 601(b)(10)(i)'s two-year lookback test was limited to "newly reporting registrants" as defined in the proposed revision to Item 601(b)(10).
Incorporation by Reference
The SEC has removed the five-year limitation in Item 10(d) and eliminated the requirements under Rule 12b-23(a)(3), Rule 411(b)(4) and Rule 8b-23. Additionally, Item 601(b)(99)(ii) and Item 601(b)(13) were eliminated as they were adopted in connection with the above Item and Rules. In Place, Rule 411, Rule 12b-23 and Rule 0-4 have been amended to require HTML hyperlinking of incorporated by reference information available on EDGAR.
Manner of Delivery
All information on the cover pages of Form 10-K, Form 10-Q, Form 8-K, Form 20-F and Form 40-F to be tagged in Inline XBRL in accordance with EDGAR Filer Manual. The SEC has also added new Rule 406 to Regulation S-T, new Item 601(b)(104) to Regulation S-K, new paragraph 104 to the "Instructions as to Exhibits" of Form 20-F, and new paragraph B.17 to the "General Instructions" of Form 40-F to implement the new cover page tagging requirements. Parallel amendments to Regulation S-T Rule 102 and Rule 105 were made requiring investment companies filing registration statements on Forms S-6, N-14, N-5, N-1A, N-2, N-3, N-4, N-6, and reports on Form N-CSR must hyperlink exhibits unless filed under an exemption.
About Faruqi & Faruqi, LLP
Faruqi & Faruqi, LLP focuses on complex civil litigation, including securities, antitrust, wage and hour, personal injury and consumer class actions as well as shareholder derivative and merger and transactional litigation. The firm is headquartered in New York, and maintains offices in California, Delaware, Georgia and Pennsylvania.
Since its founding in 1995, Faruqi & Faruqi, LLP has served as lead or co-lead counsel in numerous high-profile cases which ultimately provided significant recoveries to investors, direct purchasers, consumers and employees.
To schedule a free consultation with our attorneys and to learn more about your legal rights, call our offices today at (877) 247-4292 or (212) 983-9330.
About Maxwell Michael
Maxwell Michael's practice is focused on shareholder merger and securities litigation. Maxwell is an associate in Faruqi & Faruqi, LLP's New York office.
Tags: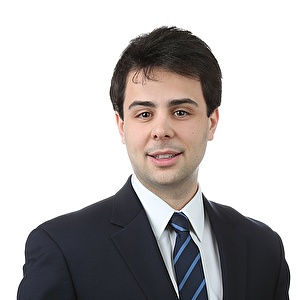 Maxwell Michael
Associate at Faruqi & Faruqi, LLP

New York office
Tel: (212) 983-9330
Fax: (212) 983-9331
E-mail: mmichael@faruqilaw.com