On February 21, 2019, co-lead plaintiffs of a putative Synergy Pharmaceuticals shareholder class objected to Synergy Pharmaceuticals' Chapter 11 Bankruptcy Plan. The objection was made before Judge James L. Garrity in the United States District Court for the Southern District of New York. It states, inter alia, that the Plan would improperly release claims by shareholders against third parties by requiring the shareholders to actively opt-out of the releases to preserve their right to sue.
Faruqi and Faruqi was appointed co-lead counsel for a putative class of Synergy Pharmaceuticals shareholders by Judge Ann M. Donnelly of the Eastern District of New York on June 22, 2018. Co-lead plaintiffs filed a consolidated amended complaint on August 31, 2018 which alleges that Synergy Pharmaceuticals made false and/or misleading statements about the side effect profile of its lead drug candidate (Trulance) and the dilutive terms of a private equity loan.
See Rich Archer, Synergy Pharma Faces Pushback Over Ch. 11 Plan Releases, Law360 (Feb. 22, 2019), available at here.
About Faruqi & Faruqi, LLP
Faruqi & Faruqi, LLP focuses on complex civil litigation, including securities, antitrust, wage and hour, personal injury and consumer class actions as well as shareholder derivative and merger and transactional litigation. The firm is headquartered in New York, and maintains offices in California, Delaware, Georgia and Pennsylvania.
Since its founding in 1995, Faruqi & Faruqi, LLP has served as lead or co-lead counsel in numerous high-profile cases which ultimately provided significant recoveries to investors, direct purchasers, consumers and employees.
To schedule a free consultation with our attorneys and to learn more about your legal rights, call our offices today at (877) 247-4292 or (212) 983-9330.
About Dillon Hagius
Dillon Hagius's practice is focused on securities litigation. Dillon is an associate in the firm's New York office.
Tags: faruqi & faruqi, investigation, news, litigation, settlement notice, case, faruqi law, faruqi blog, securities litigation, 10b-5, faruqilaw, Dillon Hagius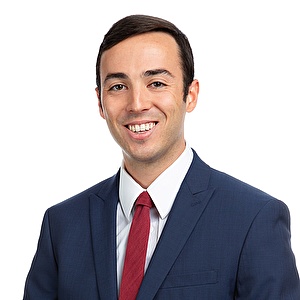 Dillon Hagius
Associate at Faruqi & Faruqi, LLP

New York office
Tel: (212) 983-9330
Fax: (212) 983-9331
E-mail: dhagius@faruqilaw.com