A new House Bill, the "Promoting Transparent Standards for Corporate Insiders Act," could change how corporate insider trading is conducted and disclosed. On January 28, 2019, the full House overwhelmingly voted to give the Securities and Exchange Commission ("SEC") the authority to carry out a study on SEC Rule 10b5-1. Under the current Rule, an insider's stock sale is not considered to be executed on the basis of material nonpublic information­—and therefore illegal insider trading under SEC Rule 10b-5­—if the insider can demonstrate that the sale was made pursuant to a written plan for trading the securities he or she adopted before becoming aware of the material nonpublic information. In theory, the current rule is supposed to prevent insiders from profiting off non-public information because it allows them to have a pre-determined schedule in which to sell their securities that is not based on their access to information that other investors lack. However, this broad affirmative defense is often abused, as insiders are given great liberty to amend these trading plans with little or no contemporaneous disclosure. For example, investor watchdog groups cried foul about the $39 million sale of Intel stock by its CEO—right before the company disclosed a massive security flaw—under a 10b5-1 trading plan that had been amended only 30 days before the sale.
Under the Bill, the House has tasked the SEC to find new ways to stop the abuse of these trading plans. Specifically, it wants the Commission to find ways to:
1) limit the ability of insiders to adopt trading plans during permitted trading windows;
2) limit the ability of insiders to adopt multiple, overlapping trading plans;
3) establish a mandatory delay between the adoption of a trading plan and the execution of the first trade pursuant to such a plan;
4) limit the frequency that insiders may modify or cancel trading plans;
5) require insiders to file trading plan adoptions, amendments, terminations and transactions with the SEC;
6) require boards of issuers that have adopted trading plans to adopt policies covering trading plan practices and periodically monitor transactions conducted pursuant to these trading plans.
The SEC's study is scheduled to last for one year, and the rules that arise from the study will eventually elicit public comment.
About Faruqi & Faruqi, LLP
Faruqi & Faruqi, LLP focuses on complex civil litigation, including securities, antitrust, wage and hour, personal injury and consumer class actions as well as shareholder derivative and merger and transactional litigation. The firm is headquartered in New York, and maintains offices in California, Delaware, Georgia and Pennsylvania.
Since its founding in 1995, Faruqi & Faruqi, LLP has served as lead or co-lead counsel in numerous high-profile cases which ultimately provided significant recoveries to investors, direct purchasers, consumers and employees.
To schedule a free consultation with our attorneys and to learn more about your legal rights, call our offices today at (877) 247-4292 or (212) 983-9330.
About Dillon Hagius
Dillon Hagius's practice is focused on securities litigation. Dillon is an associate in the firm's New York office.
Tags: faruqi & faruqi, investigation, news, litigation, settlement notice, case, faruqi law, faruqi blog, SEC, faruqilaw, Dillon Hagius, SEC Rule 10b-5, Insider Trading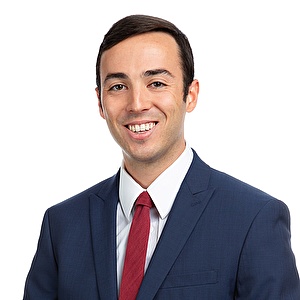 Dillon Hagius
Associate at Faruqi & Faruqi, LLP

New York office
Tel: (212) 983-9330
Fax: (212) 983-9331
E-mail: dhagius@faruqilaw.com