Securities Litigation Partner James Wilson Encourages Investors Who Suffered Losses Exceeding $50,000 In JOYY Inc. To Contact Him Directly To Discuss Their Options
Faruqi & Faruqi, LLP, a leading minority and certified woman-owned national securities law firm, is investigating potential claims against JOYY Inc. ("JOYY" or the "Company") (NASDAQ:YY).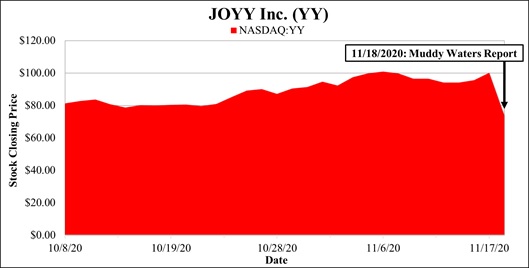 On November 18, 2020, Muddy Waters Research published a report entitled "YY: You Can't Make This Stuff Up. Well...Actually You Can" (the "Report"). The Report described issues with JOYY's financial reporting, and among other things, stated that the Company "is a multibillion-dollar fraud."
Specifically, the Report stated: "It was clear to us from early on that YY Live was almost entirely fake. YY Live is an ecosystem of mirages. Its supposedly high-earning performers in reality take home only a fraction of their reported totals. The purportedly independent channel owners are largely controlled by YY in order to facilitate continuous sham transactions. The legions of benefactor fans are almost entirely bots operating from YY's internal network (~50% of YY Live gift volume), bots operating from external bot farms, and performers roundtripping gifts to themselves. We conclude that YY Live is ~90% fraudulent. YY's international livestreaming business, Bigo, seems barely more real."
The Report also stated, "We conclude that YY's component businesses are a fraction of the size it reports, and that the company's reported user metrics, revenues, and cash balances are predominantly fraudulent." Further, the Report provided that "approximately 84% of YY's reported consolidated revenue appears to be fraudulent."
Based on the Report, JOYY's American depositary shares ("ADSs") price fell $26.53 per ADS, or 26.48%, to close of $73.66 per ADS on November 18, 2020.
If you suffered losses exceeding $50,000 investing in JOYY stock or options and would like to discuss your legal rights, please fill out the form below or call Faruqi & Faruqi partner James Wilson directly at 877-247-4292 or 212-983-9330 (Ext. 1310).
There is no cost or obligation to you.
Contact us
JOOY Inc.
* The submission of this form does not create an attorney-client relationship.
Details
Filed on 11/18/2020
Ticker NASDAQ:YY
Office
685 Third Avenue 26th Floor
10017 New York, New York
Phone (212) 983-9330
Fax (212) 983-9331
Counsel
Robert W. Killorin rkillorin@faruqilaw.com Phone (404) 847-0617 Fax (404) 506-9534
James M. Wilson, Jr. jwilson@faruqilaw.com Phone (212) 983-9330 Fax (212) 983-9331