LAS VEGAS SANDS DEADLINE ALERT
Securities Litigation Partner James Wilson Encourages Investors Who Suffered Losses Exceeding $100,000 In Las Vegas Sands Corporation To Contact Him Directly To Discuss Their Options
If you suffered losses exceeding $100,000 investing in Las Vegas Sands Corporation stock or options between February 27, 2016 and September 15, 2020 and would like to discuss your legal rights, please call Faruqi & Faruqi partner James Wilson directly at 877-247-4292 or 212-983-9330 (Ext. 1310).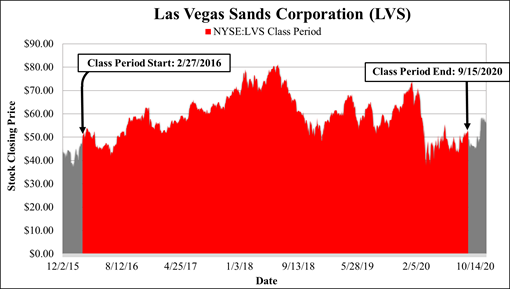 There is no cost or obligation to you.
Faruqi & Faruqi, LLP, a leading minority and certified woman-owned national securities law firm, is investigating potential claims against Las Vegas Sands Corporation ("Las Vegas Sands" or the "Company") (NYSE:LVS) and reminds investors of the December 21, 2020 deadline to seek the role of lead plaintiff in a federal securities class action that has been filed against the Company.
As detailed below, the lawsuit focuses on whether the Company and its executives violated federal securities laws by making false and/or misleading statements and/or failing to disclose that: (1) weaknesses existed in Marina Bay Sands' casino control measures pertaining to fund transfers; (2) the Marina Bay Sands' casino was consequently prone to illicit fund transfers that implicated, among other issues, the transfer of customer funds to unauthorized persons and potential breaches in the Company's anti-money laundering procedures; (3) the foregoing foreseeably increased the risk of litigation against the Company, as well as investigation and increased oversight by regulatory authorities; (4) Las Vegas Sands had inadequate disclosure controls and procedures; (5) consequently, all the foregoing issues were untimely disclosed; and (6) as a result, the Company's public statements were materially false and misleading at all relevant times.
On July 19, 2020, Bloomberg News reported that Las Vegas Sands had settled a lawsuit brought by a former patron, Wang Xi ("Xi"), meeting his demand for a S$9.1 million ($6.5 million) payment. Xi reportedly sued the Marina Bay Sands casino in 2019 to recover S$9.1 million of his funds that the casino allegedly transferred to other patrons from his casino deposit accounts in 2015 without his approval, which triggered a probe into the casino by local authorities. Bloomberg News also reported that the U.S. Department of Justice ("DOJ") "is also scrutinizing whether anti-money laundering procedures had been breached in the way the Singapore casino handles high rollers."
On this news, Las Vegas Sands' stock price fell $1.41 per share, or 2.9%, to close at $47.28 per share on July 20, 2020.
Then, on September 16, 2020, Bloomberg reported that Marina Bay Sands "has hired a law firm to conduct a new investigation into employee transfers of more than $1 billion in gamblers' money to third parties[.]" The article quoted the Singapore Casino Regulatory Authority ("CRA") as stating that "there were weaknesses in [Marina Bay Sands'] casino control measures pertaining to fund transfers[.]"
On this news, Las Vegas Sands' stock price fell $2.18 per share, or 4.2%, to close at $49.67 per share on September 16, 2020.

Contact us
Las Vegas Sands Corporation (LVS)
* The submission of this form does not create an attorney-client relationship.
Details
Filed on 09/18/2020
Ticker NYSE:LVS
Lead Plaintiff Deadline 12/21/2020
Office
685 Third Avenue 26th Floor
10017 New York, New York
Phone (212) 983-9330
Fax (212) 983-9331
Counsel
Robert W. Killorin rkillorin@faruqilaw.com Phone (404) 847-0617 Fax (404) 506-9534
James M. Wilson, Jr. jwilson@faruqilaw.com Phone (212) 983-9330 Fax (212) 983-9331