EVOLUS DEADLINE ALERT
Securities Litigation Partner James Wilson Encourages Investors Who Suffered Losses Exceeding $250,000 In Evolus To Contact Him Directly To Discuss Their Options
If you suffered losses exceeding $250,000 investing in Evolus stock or options between February 1, 2019 and July 6, 2020 and would like to discuss your legal rights, please fill out the form below. You can also call Faruqi & Faruqi partner James Wilson directly at 877-247-4292 or 212-983-9330 (Ext. 1310).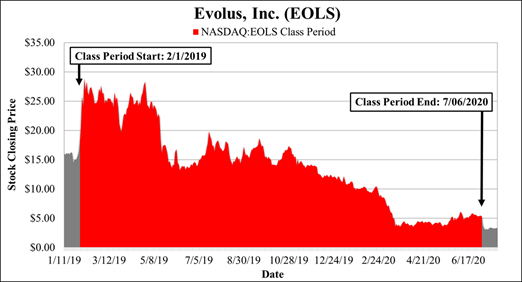 There is no cost or obligation to you.
Faruqi & Faruqi, LLP, a leading minority and certified woman-owned national securities law firm, is investigating potential claims against Evolus, Inc. ("Evolus" or the "Company") (NASDAQ:EOLS) and reminds investors of the December 15, 2020 deadline to seek the role of lead plaintiff in a federal securities class action that has been filed against the Company.
As detailed below, the lawsuit focuses on whether the Company and its executives violated federal securities laws by making false and/or misleading statements and failing to disclose to investors that: (1) the real source of botulinum toxin bacterial strain as well as the manufacturing processes used to develop Jeuveau™ originated with and were misappropriated from Medytox; (2) sufficient evidentiary support existed for the allegations that Evolus misappropriated certain trade secrets relating to the botulin toxin strain and the manufacturing processes for the development of Jeuveau™; (3) as a result, Evolus faced a real threat of regulatory and/or court action, prohibiting the import, marketing, and sale of Jeuveau™; which in turn (4) seriously threatened Evolus' ability to commercialize Jeuveau™ in the United States and generate revenue; and (5) any revenues generated from the sale of Jeuveau™ were based on Evolus' unlawful activities, including the misappropriation of trade secrets and secret manufacturing processes belonging to Allergan and Medytox.
Specifically, on July 6, 2020, the U.S. International Trade Commission ("ITC") Court issued its Final Initial Determination on the question of Evolus' alleged violation section 337 of the Tariff Act of 1930, in misappropriating certain trade secrets from Medytox. The ITC Court found that Evolus misappropriated Medytox's trade secrets which caused substantial injury to the domestic industry. Additionally, the ITC Court found that Daewoong misappropriated certain trade secrets relating to the manufacturing processes of the relevant botulinum toxin strain. As a remedy, the ITC Court recommended a limited exclusion order preventing Evolus from importing Jeuveau™ into the United States for ten years and a cease and desist order that would prevent Evolus from marketing and selling Jeuveau™ in the United States, also for a period of ten years.
On this news, the Company's shares dropped to $3.35 per share over the next two trading days, representing a loss of 37%.
Contact us
Evolus, Inc.
* The submission of this form does not create an attorney-client relationship.
Details
Filed on 09/09/2020
Ticker NASDAQ:EOLS
Lead Plaintiff Deadline 12/15/2020
Office
685 Third Avenue 26th Floor
10017 New York, New York
Phone (212) 983-9330
Fax (212) 983-9331
Counsel
Robert W. Killorin rkillorin@faruqilaw.com Phone (404) 847-0617 Fax (404) 506-9534
James M. Wilson, Jr. jwilson@faruqilaw.com Phone (212) 983-9330 Fax (212) 983-9331