BLINK DEADLINE ALERT
Securities Litigation Partner James Wilson Encourages Investors Who Suffered Losses Exceeding $50,000 In Blink To Contact Him Directly To Discuss Their Options
If you suffered losses exceeding $50,000 investing in Blink stock or options between March 6, 2020 and August 19, 2020 and would like to discuss your legal rights, please fill out the form below. You can also call Faruqi & Faruqi partner James Wilson directly at 877-247-4292 or 212-983-9330 (Ext. 1310).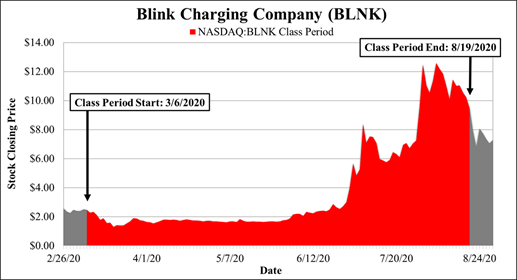 There is no cost or obligation to you.
Faruqi & Faruqi, LLP, a leading minority and certified woman-owned national securities law firm, is investigating potential claims against Blink Charging Company ("Blink" or the "Company") (NASDAQ:BLNK) and reminds investors of the October 23, 2020 deadline to seek the role of lead plaintiff in a federal securities class action that has been filed against the Company.
As detailed below, the lawsuit focuses on whether the Company and its executives violated federal securities laws by making false and/or misleading statements and/or failing to disclose that: (1) many of Blink's charging stations are damaged, neglected, non-functional, inaccessible, nor non-accessible; (2) Blink's purported partnerships and expansions with other companies were overstated; (3) the purported growth of the Company's network has been overstated; and (4) as a result, the Company's public statements were materially false and misleading at all relevant times.
On August 19, 2020, analyst Culper Research published a report entitled: "Blink Charging Co. (BLNK): You Won't Miss It." Culper wrote: "we believe that [Blink] has vastly exaggerated the size of its EV charging network in order to siphon money from the pockets of investors to insiders. Blink claims that 'EV drivers can easily charge at any of its 15,000 charging stations,' but we estimate that the Company's functional public charging station network consists of just 2,192 stations, a mere 15% of this claim."
Also, on August 19, 2020, analyst Mariner Research Group ("Mariner") published another report that was highly critical of Blink. Mariner wrote that "BLNK's revenue growth has significantly seriously lagged the EV industry – yet CEO Farkas made >$7M in compensation during this period. We believe that this is due to persistent issues around product quality, customer churn, and user experience, and believe that these issues will continue to hamper BLNK's growth."
On this news, the Company's stock price fell, over two trading sessions, from $10.23 per share on August 18, 2020 to $7.94 per share on August 20, 2020: a $2.39 or 22.39% drop.

Contact us
Blink Charging Co. (BLNK)
* The submission of this form does not create an attorney-client relationship.
Details
Filed on 08/21/2020
Ticker NASDAQ:BLNK
Lead Plaintiff Deadline 10/23/2020
Office
685 Third Avenue 26th Floor
10017 New York, New York
Phone (212) 983-9330
Fax (212) 983-9331
Counsel
Robert W. Killorin rkillorin@faruqilaw.com Phone (404) 847-0617 Fax (404) 506-9534
James M. Wilson, Jr. jwilson@faruqilaw.com Phone (212) 983-9330 Fax (212) 983-9331