PROGENITY DEADLINE ALERT
Securities Litigation Partner James Wilson Encourages Investors Who Suffered Losses Exceeding $50,000 In Progenity, Inc. To Contact Him Directly To Discuss Their Options
If you suffered losses exceeding $50,000 investing in Progenity stock between June 19, 2020 and September 19, 2020 and would like to discuss your legal rights, please fill out the form below. You can also call Faruqi & Faruqi partner James Wilson directly at 877-247-4292 or 212-983- 9330 (Ext. 1310).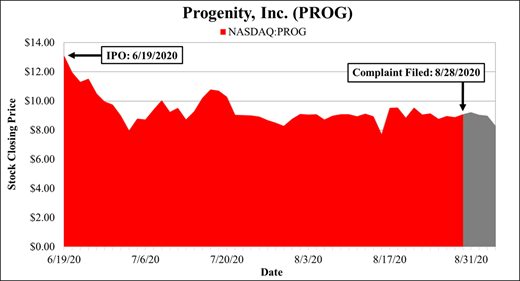 There is no cost or obligation to you.
Faruqi & Faruqi, LLP, a leading minority and certified woman-owned national securities law firm, is investigating claims against Progenity, Inc. ("Progenity" or the "Company") (NASDAQ:PROG) and reminds investors of the October 27, 2020 deadline to seek the role of lead plaintiff in a federal securities class action that has been filed against the Company.
As detailed below, the lawsuit focuses on whether the Company's Registration Statement filed in connection with the June 2020 IPO failed to disclose, inter alia, the following adverse facts that existed at the time of the IPO, rendering numerous statements provided therein materially false and misleading: (1) that Progenity had overbilled government payors by $10.3 million in 2019 and early 2020 and, thus, had materially overstated its revenues, earnings and cash flows from operations for the historical financial periods provided in the Registration Statement; (2) that Progenity would need to refund this overpayment in the second quarter of 2020 (the same quarter in which the IPO was conducted), adversely impacting its quarterly results; and (3) that Progenity was suffering from accelerating negative trends in the second quarter of 2020 with respect to the Company's testing volumes, revenues and product pricing.
Specifically, on or around June 19, 2020, Progenity conducted its IPO, selling 6.8 million shares priced at $15.00 per share. Then, on August 13, 2020, Progenity issued a press release announcing the Company's financial results for the second quarter of 2020. Among other results, Progenity announced revenue of $17.27 million for the quarter, which missed consensus estimates by approximately $8.92 million. Progenity advised investors that "second-quarter revenues reflected a $10.3 million accrual for refunds to government payors" in connection with a settlement with the U.S. Department of Justice and participating states to resolve claims that Progenity had fraudulently billed federal healthcare programs for prenatal tests and provided kickbacks to physicians to induce to them to order Progenity tests for their patients.
On this news, Progenity's stock price fell from a closing price of $1.24 per share on August 13, 2020 to $7.71 per share on August 14, 2020—a $1.24 or 13.85% drop and nearly 50% below the $15 price investors paid for the stock in the IPO less than two months previously.

Contact us
Progenity, Inc. (PROG)
* The submission of this form does not create an attorney-client relationship.
Details
Filed on 08/21/2020
Ticker NASDAQ:PROG
Lead Plaintiff Deadline 10/27/2020
Office
685 Third Avenue 26th Floor
10017 New York, New York
Phone (212) 983-9330
Fax (212) 983-9331
Counsel
Robert W. Killorin rkillorin@faruqilaw.com Phone (404) 847-0617 Fax (404) 506-9534
James M. Wilson, Jr. jwilson@faruqilaw.com Phone (212) 983-9330 Fax (212) 983-9331