VAXART DEADLINE ALERT
Securities Litigation Partner James Wilson Encourages Investors Who Suffered Losses Exceeding $50,000 In Vaxart To Contact Him Directly To Discuss Their Options
If you suffered losses exceeding $50,000 investing in Vaxart stock or options between June 25, 2020 to July 25, 2020 and would like to discuss your legal rights, please fill out the form below. You can also call Faruqi & Faruqi partner James Wilson directly at 877-247-4292 or 212-983-9330 (Ext. 1310).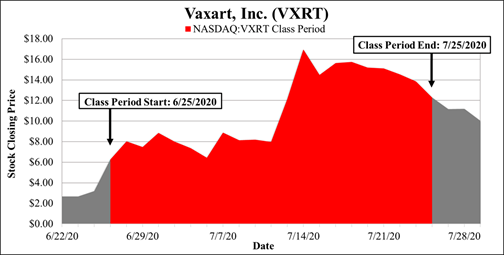 There is no cost or obligation to you.
Faruqi & Faruqi, LLP, a leading minority and certified woman-owned national securities law firm, is investigating potential claims against Vaxart, Inc. ("Vaxart" or the "Company") (NASDAQ:VXRT) and reminds investors of the October 23, 2020 deadline to seek the role of lead plaintiff in a federal securities class action that has been filed against the Company.
As detailed below, the lawsuit focuses on whether the Company and its executives violated federal securities laws by exaggerating the prospects of its COVID-19 vaccine candidate, including its purported role or involvement in Operation Warp Speed ("OWS"). Contrary to Defendants' statements, Vaxart's COVID-19 vaccine candidate had no reasonable prospect for mass production and marketing and was not among the companies selected to receive significant financial support from OWS to produce hundreds of millions of vaccine doses. Instead, Vaxart's COVID-19 vaccine candidate was merely selected to participate in preliminary U.S. government studies to determine potential areas for possible OWS partnership and support. At the time of making the statements, those studies were ongoing, and no determination had been made.
On July 25, 2020, the New York Times published an article titled "Corporate Insiders Pocket $1 Billion in Rush for Coronavirus Vaccine" that revealed the misleading nature of Defendants' statements. In fact, Vaxart was not one of the companies selected to receive financial support from Operation Warp Speed to produce hundreds of millions of vaccine doses. The company had never developed a vaccine, and its main funder profited by over $200 million through undisclosed stock options granted just prior to the announcement.
In response to this news, the price of Vaxart shares dropped sharply lower on July 27, 2020 from $12.29 to $11.16.

Contact us
Vaxart, Inc.
* The submission of this form does not create an attorney-client relationship.
Details
Filed on 07/27/2020
Ticker NASDAQ:VXRT
Lead Plaintiff Deadline 10/23/2020
Office
685 Third Avenue 26th Floor
10017 New York, New York
Phone (212) 983-9330
Fax (212) 983-9331
Counsel
Robert W. Killorin rkillorin@faruqilaw.com Phone (404) 847-0617 Fax (404) 506-9534
James M. Wilson, Jr. jwilson@faruqilaw.com Phone (212) 983-9330 Fax (212) 983-9331