On November 18, 2022, Judge Diane Gujarati of the United States District Court for the Eastern District of New York Court issued an order enjoining Amazon from retaliating against union organizers in its JFK8 Warehouse, located in Staten Island. Judge Gujarati rendered her decision after Amazon terminated, suspended, and issued performance related write-ups to several union organizers at the JFK8 Warehouse after employees voted in favor of unionizing in March 2022.
In the order, Judge Gujarati warned Amazon to stop firing union organizers and to stop "interfering with, restraining or coercing employees" from organizing—a workplace activity protected by the law. Judge Gujarati also mandated Amazon to post, distribute, and read the order aloud at the JFK8 Warehouse.
While employees at the JFK8 Warehouse voted in favor of unionizing in March 2022, contract negotiations have yet taken place as Amazon staunchly attempts to overturn the vote. In September 2022, the National Labor Relations Board affirmed the employees' decision to unionize, but Amazon has since appealed that ruling and the case is still pending.
Attorneys for the Amazon Labor Union heralded Judge Gujarati's decision, believing it has nationwide implications and should protect other union organizers working in Amazon warehouses across the country from retaliation. "This is a really significant order. In our opinion it's not limited just to JFK8," said Seth Goldstein, an attorney representing the Amazon Labor Union.
However, Amazon's efforts to stop other warehouses in New York from unionizing have largely been successful, considering a second warehouse in Staten Island and one outside Albany both failed to muster the requisite votes to form a union.
Workers who believe their employer has retaliated against them for joining, forming, or supporting a union, should seek legal counsel to analyze their potential claims.

About Faruqi & Faruqi, LLP
Faruqi & Faruqi, LLP focuses on complex civil litigation, including securities, antitrust, wage and hour and consumer class actions as well as shareholder derivative and merger and transactional litigation. The firm is headquartered in New York, and maintains offices in California, Georgia and Pennsylvania.
Since its founding in 1995, Faruqi & Faruqi, LLP has served as lead or co-lead counsel in numerous high-profile cases which ultimately provided significant recoveries to investors, direct purchasers, consumers and employees.
To schedule a free consultation with our attorneys and to learn more about your legal rights, call our offices today at (877) 247-4292 or (212) 983-9330.
About Camilo Burr
Camilo Burr's practice is focused on employment litigation. Camilo is an associate in the firm's New York office.
Tags: faruqi & faruqi, investigation, news, litigation, settlement notice, case, faruqi law, faruqi blog, faruqilaw, Camilo Burr, employment litigation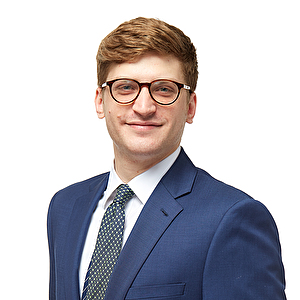 Camilo Burr
Associate at Faruqi & Faruqi, LLP

New York office
Tel: (212) 983-9330
Fax: (212) 983-9331
E-mail: cburr@faruqilaw.com
Social: LinkedIn