On March 16, 2022, Governor Kathy Hochul signed into law several pieces of legislation affording employees greater protections against workplace harassment, discrimination, and retaliation, while other pieces of legislation are still pending before the New York State Assembly and Governor Hochul.
Legislation That Has Been Made Law:
• Expanded Definition of Retaliation (S5870): Under the new law, employers are prohibited from "disclosing an employee's personnel file because he or she has opposed any practices forbidden under [the New York State Human Rights Law ("NYSHRL")] or because he or she has filed a complaint, testified or assisted in any proceeding under [the NYSHRL]." This law went into effect on March 16, 2022.
• Public Employees Are More Accountable (S3395A): Individuals may now file complaints of sexual harassment against New York's elected officials, public employees, and judges. This law also went into effect on March 16, 2022.
• New Sexual Harassment Hotline (S812A): This law creates a new toll-free confidential hotline which will be operated by the New York State Division of Human Rights. Pro bono attorneys will answer the telephones and assist victims of sexual harassment. The new hotline will go into effect on July 14, 2022.
Legislation That Has Been Approved by the NYS Senate, but is Awaiting Approval from the NYS Assembly:
• Limitations on Settlement and Separation Agreements (S738): Any provision in a settlement or separation agreement which releases claims rooted in discrimination, harassment, or retaliation will be unenforceable if:
o The plaintiff or complainant must pay liquidated damages for a violation of a non-disclosure or non-disparagement provision;
o The plaintiff or complainant must pay back some or all of any money paid as part of the agreement for a violation of a non-disclosure or non-disparagement provision; or
o The release clause contains any affirmative statement by the plaintiff or the complainant that he or she was not subject to unlawful discrimination, harassment, or retaliation.
Additionally, if enacted, this legislation would entitle any complainant or plaintiff with discrimination claims "up to twenty-one days" to consider a confidentiality or non-disclosure provision in an agreement, reversing the current rule that a complainant or plaintiff must wait twenty-one days before signing the agreement relating to his or her discrimination claims. A complainant or plaintiff can waive the twenty-one day period by signing the agreement before the period elapses.
• "No Rehire" Clauses (S766): If enacted, this law will make any release of any claim unenforceable if the agreement contains a provision prohibiting an employee or independent contractor from applying, accepting, or engaging in future employment with the employer (or any related entity). Further, the employer will remain obligated to comply with other obligations under the settlement agreement, including payment of any settlement amount.
• Extension of the Statute of Limitations: The statute of limitations for claims based on unlawful discriminatory practices would be extended from three to six years (S849A). The deadline to report unlawful discrimination in the workplace with the New York State Division of Human Rights would be extended from one to three years. (S566A).
Workers who believe they have been retaliated or discriminated against at the workplace should seek legal counsel as soon as possible to understand your rights and determine whether you have a claim.

About Faruqi & Faruqi, LLP
Faruqi & Faruqi, LLP focuses on complex civil litigation, including securities, antitrust, wage and hour, personal injury and consumer class actions as well as shareholder derivative and merger and transactional litigation. The firm is headquartered in New York, and maintains offices in California, Georgia and Pennsylvania.
Since its founding in 1995, Faruqi & Faruqi, LLP has served as lead or co-lead counsel in numerous high-profile cases which ultimately provided significant recoveries to investors, direct purchasers, consumers and employees.
To schedule a free consultation with our attorneys and to learn more about your legal rights, call our offices today at (877) 247-4292 or (212) 983-9330.
About Camilo Burr
Camilo Burr is an associate at Faruqi & Faruqi's New York office. Camilo works with attorneys specializing in employment law and wage and hour class action litigation. http://www.employeerightscounsel.com/
Tags: faruqi & faruqi, investigation, news, litigation, settlement notice, case, faruqi law, faruqi blog, faruqilaw, Camilo Burr, employment litigation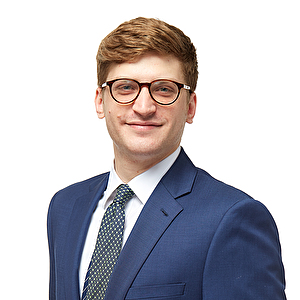 Camilo Burr
Associate at Faruqi & Faruqi, LLP

New York office
Tel: (212) 983-9330
Fax: (212) 983-9331
E-mail: cburr@faruqilaw.com
Social: LinkedIn