On June 28, 2021, the NCAA's D-1 Council, made up of a group of school athletic directors, administrators, and faculty members who run the daily operations of the nation's highest collegiate athletics organization recommended a proposal to the NCAA's Board of Directors to suspend rules prohibiting college athletes from profiting from the use of their names, images, and likenesses.
The recommendation from the D-1 Council comes a week after the U.S. Supreme Court ruled that the NCAA should not be shielded from antitrust suits, which leaves the organization open to litigation over its rules that prohibit student athletes from profiting from their names, images, and likenesses. In that decision, Justice Brett Kavanaugh notably told the NCAA that it "is not above the law."
Currently, student athletes are prohibited from being paid for sponsorships or endorsements and the D-1 Council's proposal seeks to suspend these rules until federal law is enacted. Seven states are already set to enact laws on July 1, 2021 allowing student athletes to profit from sponsorships and endorsements that use a student athlete's name, image, and likeness, and dozens more are expected to do the same in the coming years. Student athletes in those states will be allowed to be paid by third parties while they continue to play sports for their colleges and universities, subject to state law and federal law, if and when enacted.
Last year, student athletes filed an antitrust class action suit against the NCAA in California federal court over the association's rules preventing student athletes from making money off their image, name, and likeness. The NCAA said on May 27, 2021 that it intends to update those rules and allow student athletes to collect pay for athletic endorsements and media appearances without a school's involvement, but a similar pledge made in January was ultimately shelved. The Board of Directors will have another opportunity to update their rules when they vote on the D-1 Council's proposal today, June 30, 2021.

About Faruqi & Faruqi, LLP
Faruqi & Faruqi, LLP focuses on complex civil litigation, including securities, antitrust, wage and hour, personal injury and consumer class actions as well as shareholder derivative and merger and transactional litigation. The firm is headquartered in New York, and maintains offices in California, Georgia and Pennsylvania.
Since its founding in 1995, Faruqi & Faruqi, LLP has served as lead or co-lead counsel in numerous high-profile cases which ultimately provided significant recoveries to investors, direct purchasers, consumers and employees.
To schedule a free consultation with our attorneys and to learn more about your legal rights, call our offices today at (877) 247-4292 or (212) 983-9330.
About Camilo Burr
Camilo Burr is an associate at Faruqi & Faruqi's New York office. Camilo's practice is focused on employment law and wage and hour class action litigation. http://www.employeerightscounsel.com/
Tags: faruqi & faruqi, investigation, news, litigation, settlement notice, case, faruqi law, faruqi blog, faruqilaw, Camilo Burr, employment litigation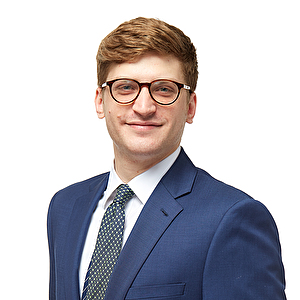 Camilo Burr
Associate at Faruqi & Faruqi, LLP

New York office
Tel: (212) 983-9330
Fax: (212) 983-9331
E-mail: cburr@faruqilaw.com
Social: LinkedIn