On May 27, 2021, members of Congress announced a bill, the "College Athlete Right to Organize Act," that seeks to provide college student athletes the right to unionize and collectively bargain as employees of their respective collegiate institutions.
The bill covers student athletes who attend public and private colleges and universities and are paid via direct compensation or attend the schools on scholarship. Under the bill, co-authored by Senators Chris Murphy (D-Conn.) and Bernie Sanders (I-Vt.), student athletes can organize by sport across colleges within their conference and can negotiate their pay, the form it takes, as well as other health, safety, and educational standards.
"Big-time college sports haven't been 'amateur' for a long time, and the NCAA has long denied its players economic and bargaining rights while treating them like commodities," said Sen. Chris Murphy in a statement. "Having the right to [collectively organize] will help athletes get the pay and protections they deserve, and forces the [National Collegiate Athletic Association ("NCAA")] to treat them as equals rather than second-class citizens. It's a civil rights issue, and a matter of basic fairness."
Last year, student athletes filed an antitrust class action suit against the NCAA in California federal court over the association's rules preventing student athletes from making money off their image, name, and likeness. The NCAA said on May 27, 2021 that it intends to update those rules and allow student athletes to collect pay for athletic endorsements and media appearances without a school's involvement, but a similar pledge made in January was ultimately shelved.

About Faruqi & Faruqi, LLP
Faruqi & Faruqi, LLP focuses on complex civil litigation, including securities, antitrust, wage and hour, personal injury and consumer class actions as well as shareholder derivative and merger and transactional litigation. The firm is headquartered in New York, and maintains offices in California, Georgia and Pennsylvania.
Since its founding in 1995, Faruqi & Faruqi, LLP has served as lead or co-lead counsel in numerous high-profile cases which ultimately provided significant recoveries to investors, direct purchasers, consumers and employees.
To schedule a free consultation with our attorneys and to learn more about your legal rights, call our offices today at (877) 247-4292 or (212) 983-9330.
About Camilo Burr
Camilo Burr's practice is focused on employment and personal injury litigation. Camilo is an associate in the firm's New York office.
Tags: faruqi & faruqi, investigation, news, litigation, settlement notice, case, faruqi law, faruqi blog, faruqilaw, Camilo Burr, employment litigation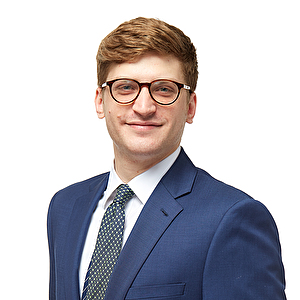 Camilo Burr
Associate at Faruqi & Faruqi, LLP

New York office
Tel: (212) 983-9330
Fax: (212) 983-9331
E-mail: cburr@faruqilaw.com
Social: LinkedIn