On Tuesday, January 26, 2021, Congressional Democrats renewed their efforts to increase the federal minimum wage to $15 per hour by 2025 by introducing the Raise the Wage Act. The Act would phase out the lower wage for tipped workers while gradually increasing the minimum wage under the Fair Labor Standards Act from the current hourly wage of $7.25 to $15. The Congressional Budget Office reported in July 2019 that by raising the federal minimum wage, approximately 17 million workers would see an increase to their hourly wages.
If passed, the first increase to the federal minimum wage would be from $7.25 to $9.50 on the bill's effective date, with increases of $1.50 each year from 2022-2024, culminating in a final $1 increase in 2025. Additionally, by 2027, the bill would eliminate the lower minimum wage tipped employees receive as well as separate minimum wages for young workers and those with disabilities.
"Our job as the United States government is to make it clear . . . if you work 40 hours a week, you should not be living in poverty," Sen. Bernie Sanders, I-Vt., said. "The minimum wage must be a living wage enabling people to live with dignity." The U.S. House of Representatives attempted to pass similar legislation in 2019, but it stalled in the Republican-controlled Senate.

About Faruqi & Faruqi, LLP
Faruqi & Faruqi, LLP focuses on complex civil litigation, including securities, antitrust, wage and hour, personal injury and consumer class actions as well as shareholder derivative and merger and transactional litigation. The firm is headquartered in New York, and maintains offices in California, Delaware, Georgia and Pennsylvania.
Since its founding in 1995, Faruqi & Faruqi, LLP has served as lead or co-lead counsel in numerous high-profile cases which ultimately provided significant recoveries to investors, direct purchasers, consumers and employees.
To schedule a free consultation with our attorneys and to learn more about your legal rights, call our offices today at (877) 247-4292 or (212) 983-9330.
About Camilo Burr
Camilo Burr's practice is focused on employment and personal injury litigation. Camilo is an associate in the firm's New York office.
Tags: faruqi & faruqi, investigation, news, litigation, settlement notice, case, faruqi law, faruqi blog, faruqilaw, Camilo Burr, employment litigation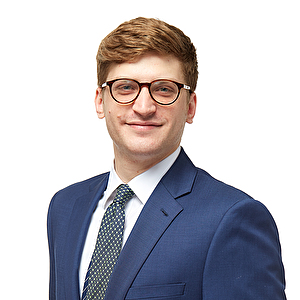 Camilo Burr
Associate at Faruqi & Faruqi, LLP

New York office
Tel: (212) 983-9330
Fax: (212) 983-9331
E-mail: cburr@faruqilaw.com
Social: LinkedIn