On October 8, 2020, the U.S. Court of Appeals for the Ninth Circuit reversed and remanded a district court's dismissal of a securities fraud class action against Bofl Holding, Inc. ("Bofl"), finding that in the Ninth Circuit, a whistleblower lawsuit filed by a former company insider could be a potential corrective disclosure.
Bofl shareholders alleged the Company misled investors regarding the bank's loan underwriting standards and internal controls, and that the truth was only revealed after a whistleblower lawsuit was filed by a former company auditor and a series of eight blog posts were published by anonymous short-sellers. The district court dismissed the complaint, holding that neither alleged corrective disclosure was sufficient to demonstrate loss causation. Erhart v. BofI Holding, Inc., 387 F. Supp. 3d 1046 (S.D. Cal. 2019). Furthermore, the district court found that to adequately plead loss causation, using a whistleblower complaint, the lawsuit must be followed by "a subsequent confirmation" of the fraud. Id. With respect to the blog posts, the district court found that they could not constitute a corrective disclosure because they relied on already publicly available information. Id.
On appeal, the Ninth Circuit reversed the dismissal, holding the whistleblower allegations could constitute a corrective disclosure. The Ninth Circuit rejected the categorical rule that allegations in a lawsuit can never qualify as a corrective disclosure without additional confirmation and provided clarification as to when allegations in a lawsuit appropriately demonstrate loss causation. Specifically, "[i]f the market treats allegations in a lawsuit as sufficiently credible to be acted upon as truth, and the inflation in the stock price attributable to the defendant's misstatements is dissipated as a result, then the allegations can serve as a corrective disclosure." HMEPS v. BofI Holding, Inc., et al., Docket No. 18-55415, ECF # BL-41 (9th Cir. Mar 28, 2018).
With respect to the short-seller blog posts, the Ninth Circuit agreed with the District court that the blog posts cannot constitute a corrective disclosure as a matter of law because the "posts were authored by anonymous short-sellers who had a financial incentive to convince others to sell" and a "reasonable investor reading these posts would likely have taken their contents with a healthy grain of salt." Id.
About Faruqi & Faruqi, LLP
Faruqi & Faruqi, LLP focuses on complex civil litigation, including securities, antitrust, wage and hour, personal injury and consumer class actions as well as shareholder derivative and merger and transactional litigation. The firm is headquartered in New York, and maintains offices in California, Delaware, Georgia and Pennsylvania.
Since its founding in 1995, Faruqi & Faruqi, LLP has served as lead or co-lead counsel in numerous high-profile cases which ultimately provided significant recoveries to investors, direct purchasers, consumers and employees.
To schedule a free consultation with our attorneys and to learn more about your legal rights, call our offices today at (877) 247-4292 or (212) 983-9330.
About Maxwell Michael
Maxwell Michael's practice is focused on shareholder merger and securities litigation. Maxwell is an associate in Faruqi & Faruqi, LLP's New York office.
Tags: faruqi & faruqi, investigation, news, litigation, settlement notice, case, faruqi law, faruqi blog, faruqilaw, Maxwell Michael, securities litigation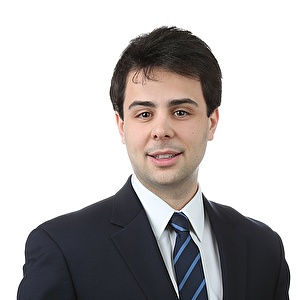 Maxwell Michael
Associate at Faruqi & Faruqi, LLP

New York office
Tel: (212) 983-9330
Fax: (212) 983-9331
E-mail: mmichael@faruqilaw.com