On September 1, 2020, the U.S. Court of Appeals for the Seventh Circuit ruled 2-1 that the ministerial exception does not bar an employee from bringing hostile work environment claims linked to protected traits such as sexual orientation and health conditions.
In the case at hand, Sandor Demkovich v. St. Andrew the Apostle Parish, Calumet City, Mr. Demkovich, a music director, brought claims against the Chicago archdiocese and the parish where he worked, alleging his supervisor at the parish harassed him because he was gay and overweight. Mr. Demkovich filed his suit in Illinois federal court in December 2016, after he was purportedly fired because he married his same-sex partner. His termination also occurred after his supervisor allegedly verbally harassed him for several years because of his sexual orientation and weight.
According to the Seventh Circuit, the purpose of the ministerial exception under the First Amendment's guarantee of religious freedom is to give churches "the liberty to choose who they employ without being constrained by federal job discrimination laws." To that end, the ministerial exception shields churches from discrimination in employment actions such as hiring, firing, promoting, deciding compensation, and job assignments.
However, the majority found that "Religious employers' control over [these] tangible employment actions . . . provides ample protection for the free exercise of religion." Further holding that the ministerial exception does not preclude workers from bringing claims that they were bullied because of a protected trait such as sexual orientation, "because the behavior that creates the hostile environment is not essential for management and supervision and control of employees."

About Faruqi & Faruqi, LLP
Faruqi & Faruqi, LLP focuses on complex civil litigation, including securities, antitrust, wage and hour, personal injury and consumer class actions as well as shareholder derivative and merger and transactional litigation. The firm is headquartered in New York, and maintains offices in California, Delaware, Georgia and Pennsylvania.
Since its founding in 1995, Faruqi & Faruqi, LLP has served as lead or co-lead counsel in numerous high-profile cases which ultimately provided significant recoveries to investors, direct purchasers, consumers and employees.
To schedule a free consultation with our attorneys and to learn more about your legal rights, call our offices today at (877) 247-4292 or (212) 983-9330.
About Camilo Burr
Camilo Burr's practice is focused on employment and personal injury litigation. Camilo is an associate in the firm's New York office.
Tags: faruqi & faruqi, investigation, news, litigation, settlement notice, case, faruqi law, faruqi blog, faruqilaw, Camilo Burr, employment litigation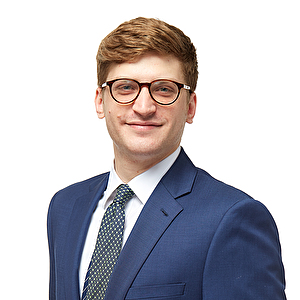 Camilo Burr
Associate at Faruqi & Faruqi, LLP

New York office
Tel: (212) 983-9330
Fax: (212) 983-9331
E-mail: cburr@faruqilaw.com
Social: LinkedIn