On August 19, 2020, in a 2-1 decision, the 9th Circuit affirmed a Washington District Court's decision rejecting Amazon.com Inc.'s plea to arbitrate wage claims brought by a class action of Amazon drivers alleging they were misclassified as independent contractors as opposed to employees.
The 9th Circuit found that the Amazon drivers were in fact transportation workers and according to Circuit Judge Milan D. Smith Jr., were "engaged in interstate commerce and thus exempt from the [Federal Arbitration Act's] enforcement provisions[.]"
Two of three Circuit Court judges agreed that Amazon drivers did not have to physically cross state lines to fall under the definition of a transportation worker who is exempt from arbitration under the Federal Arbitration Act. Section 1 of the Federal Arbitration Act exempts from arbitration "contracts of employment of seamen, railroad employees, or any other class of workers engaged in foreign or interstate commerce." Because "the interstate transactions between Amazon and the customer do not conclude until the packages reach their intended destinations" Amazon drivers were considered by the Circuit Court majority to be engaged in the movement of interstate commerce even if they did not physically cross state lines.
The decision dealt Amazon another significant blow in federal courts after the 1st Circuit also rejected Amazon's argument to arbitrate claims brought by a Massachusetts driver. Similar to the 1st Circuit, the 9th Circuit rejected Amazon's narrow interpretation of the exemption, finding that a driver employed to deliver goods that come from out of state and are delivered to an instate customer is no different than a worker responsible for delivering goods between states.

About Faruqi & Faruqi, LLP
Faruqi & Faruqi, LLP focuses on complex civil litigation, including securities, antitrust, wage and hour, personal injury and consumer class actions as well as shareholder derivative and merger and transactional litigation. The firm is headquartered in New York, and maintains offices in California, Delaware, Georgia and Pennsylvania.
Since its founding in 1995, Faruqi & Faruqi, LLP has served as lead or co-lead counsel in numerous high-profile cases which ultimately provided significant recoveries to investors, direct purchasers, consumers and employees.
To schedule a free consultation with our attorneys and to learn more about your legal rights, call our offices today at (877) 247-4292 or (212) 983-9330.
About Camilo Burr
Camilo Burr's practice is focused on employment and personal injury litigation. Camilo is an associate in the firm's New York office.
Tags: faruqi & faruqi, investigation, news, litigation, settlement notice, case, faruqi law, faruqi blog, faruqilaw, Camilo Burr, wage & hour litigation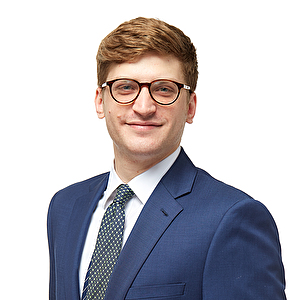 Camilo Burr
Associate at Faruqi & Faruqi, LLP

New York office
Tel: (212) 983-9330
Fax: (212) 983-9331
E-mail: cburr@faruqilaw.com