A recent survey of 250 in-house corporate executives conducted by BTI Consulting Group has highlighted the critical importance of data privacy and cybersecurity legal services. According to the survey, "corporate decision makers expect spending on outside privacy and cybersecurity counsel to grow in the double digits over the next three years, with 93% of respondents saying they are expecting to face either the same or more cybersecurity and privacy matters next year[.]" This demand is largely catalyzed by new legislation, both domestic (e.g., the California Consumer Privacy Act) and international (e.g., the European Union's General Data Protection Regulation). Under this legislation, consumers have gained new rights relating to the access, deletion, and sharing of their personal information. These new rights have thus created new legal exposure for corporations.
About Faruqi & Faruqi, LLP
Faruqi & Faruqi, LLP focuses on complex civil litigation, including securities, antitrust, wage and hour, personal injury and consumer class actions as well as shareholder derivative and merger and transactional litigation. The firm is headquartered in New York, and maintains offices in California, Delaware, Georgia and Pennsylvania.
Since its founding in 1995, Faruqi & Faruqi, LLP has served as lead or co-lead counsel in numerous high-profile cases which ultimately provided significant recoveries to investors, direct purchasers, consumers and employees.
To schedule a free consultation with our attorneys and to learn more about your legal rights, call our offices today at (877) 247-4292 or (212) 983-9330.
About Dillon Hagius
Dillon Hagius's practice is focused on securities litigation. Dillon is an associate in the firm's New York office.
Tags: cybersecurity, GDPR, EU, General Data Protection Regulation, European Union, legislation, internet, data privacy, California Consumer Privacy Act, privacy, online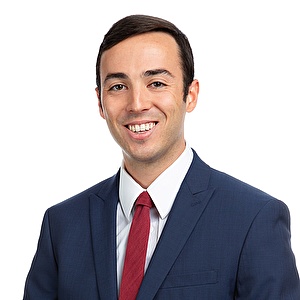 Dillon Hagius
Associate at Faruqi & Faruqi, LLP

New York office
Tel: (212) 983-9330
Fax: (212) 983-9331
E-mail: dhagius@faruqilaw.com