Kristen Gillibrand, a US Senator from New York, has proposed the creation of the Data Protection Agency ("DPA")—a new federal agency tasked with protecting the data of American consumers. Gillibrand explains that the goals of the agency would be threefold: to (1) give Americans control and protection over their own data by creating and enforcing data protection rules; (2) maintain the most innovative, successful tech sector in the world by ensuring fair competition within the digital marketplace, and; (3) prepare the American government for the digital age. As such, the DPA would be able to issue civil investigative demands, prescribe rules, and issue orders as is necessary to carry out federal privacy laws. Under her proposal, the authority of state agencies and state attorneys general would be preserved. In theory, this would allow existing state laws, like the California Consumer Privacy Act, to remain in effect. The DPA would likely take away oversight powers from the Federal Trade Commission, which, according to Gillibrand, "has failed to enforce its own orders and has failed to act on dozens of detailed consumer privacy complaints alleging unfair practices concerning data collection, marketing to children, cross-device tracking, consumer profiling, user tracking, discriminatory business practices, and data disclosure to third-parties." While Gillibrand's proposal is still in its infancy, it signals the increased interest in data privacy regulation on a federal scale.
About Faruqi & Faruqi, LLP
Faruqi & Faruqi, LLP focuses on complex civil litigation, including securities, antitrust, wage and hour, personal injury and consumer class actions as well as shareholder derivative and merger and transactional litigation. The firm is headquartered in New York, and maintains offices in California, Delaware, Georgia and Pennsylvania.
Since its founding in 1995, Faruqi & Faruqi, LLP has served as lead or co-lead counsel in numerous high-profile cases which ultimately provided significant recoveries to investors, direct purchasers, consumers and employees.
To schedule a free consultation with our attorneys and to learn more about your legal rights, call our offices today at (877) 247-4292 or (212) 983-9330.
About Dillon Hagius
Dillon Hagius's practice is focused on securities litigation. Dillon is an associate in the firm's New York office.
Tags: faruqi & faruqi, investigation, news, litigation, settlement notice, case, faruqi law, faruqi blog, faruqilaw, Dillon Hagius, securities litigation, data breach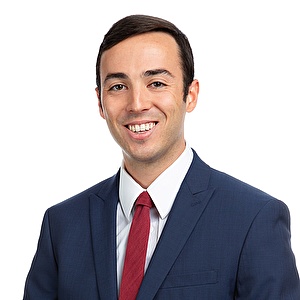 Dillon Hagius
Associate at Faruqi & Faruqi, LLP

New York office
Tel: (212) 983-9330
Fax: (212) 983-9331
E-mail: dhagius@faruqilaw.com