The Securities and Exchange Commission (the "SEC") has for many years relied on a virtually unfettered ability to seek the disgorgement of billions of dollars of funds found to have been obtained unlawfully by defendants. The SEC has done this even though there is no express statutory authority sanctioning disgorgement. Federal court authority to order disgorgement in SEC actions has been challenged in the past and may finally be decided. On November 1, 2019, the Supreme Court granted certiorari in Liu v. SEC, No. 17-55849 (9th Cir. 2018) which challenges the SEC's authority to ask for disgorgement.
The SEC's ability to seek disgorgement was challenged and restricted in 2017 when the Supreme Court held in Kokesh v. SEC, 137 S. Ct. 1635 (2017) that disgorgement should be subject to the 5-year statute of limitation that applies to the enforcement of any "civil fine, penalty, or forfeiture, …" under 28 U.S.C. § 2462. Before Kokesh, the SEC could seek disgorgement from the time the unlawful act began. In Kokesh, a unanimous Supreme Court noted that disgorgement can be used to compensate victims of a crime and also kept by the federal government instead of compensating victims. 137 S. Ct. 1644 (2017). The Supreme Court held that disgorgement thus bears "all the hallmarks of a penalty: It is imposed as a consequence of violating a public law and it is intended to deter, not compensate." Id. The Supreme Court noted that it was not addressing whether courts have the authority to order disgorgement.
In Liu, the federal district court for the Central District of California granted summary judgment against Charles C. Liu and Xin Wang (together, "Defendants"), finding Defendants violated Section 17(a)(2) of the Securities Act of 1933 by diverting approximately $20 million of $26.7 million raised from foreign investors in what was marketed as an EB-5 Immigrant Investor Program ("EB-5") to develop and run a proton cancer therapy center that was never built. SEC v. Liu, 262 F. Supp. 3d 957 (C.D. Cal. 2017). The SEC sought and obtained an order from the district court for Defendants to disgorge the $26.7 million that was raised, imposed a civil penalty of $8.2 million and permanently enjoined Defendants from participating in the EB-5 program. Id. at 975-76.
On appeal, Defendants challenged the SEC's ability to seek disgorgement, which the Ninth Circuit denied. SEC v. Liu, 754 F. App'x 505, 509 (9th Cir. 2018). In their petition for certification, Defendants made the same argument that under Kokesh, the SEC is not authorized to seek or obtain disgorgement as a form of equitable relief.
It is unclear how the Court will rule on the issue, but some of the Justices have already expressed some interest in the question. Multiple Justices inquired about the authority behind disgorgement during the oral argument in Kokesh, and Justice Kavanaugh, while he was a judge on the D.C. Circuit, noted in a concurring opinion that Kokesh "overturned a line of cases . . . that had concluded that disgorgement was remedial and not punitive." Saad v. SEC, 873 F.3d 297, 305 (D.C. Cir. 2017) (Kavanaugh, J., concurring).
The case raises issues about the SEC's enforcement authority and could have substantial consequences.

About Faruqi & Faruqi, LLP
Faruqi & Faruqi, LLP focuses on complex civil litigation, including securities, antitrust, wage and hour, personal injury and consumer class actions as well as shareholder derivative and merger and transactional litigation. The firm is headquartered in New York, and maintains offices in California, Delaware, Georgia and Pennsylvania.
Since its founding in 1995, Faruqi & Faruqi, LLP has served as lead or co-lead counsel in numerous high-profile cases which ultimately provided significant recoveries to investors, direct purchasers, consumers and employees.
To schedule a free consultation with our attorneys and to learn more about your legal rights, call our offices today at (877) 247-4292 or (212) 983-9330.
About Maxwell Michael
Maxwell Michael's practice is focused on shareholder merger and securities litigation. Maxwell is an associate in Faruqi & Faruqi, LLP's New York office.
Tags: faruqi & faruqi, investigation, news, litigation, settlement notice, case, faruqi law, faruqi blog, faruqilaw, Maxwell Michael, SEC, SCOTUS, disgorgement, attorneys, attorney, lawyers, lawyer, law firm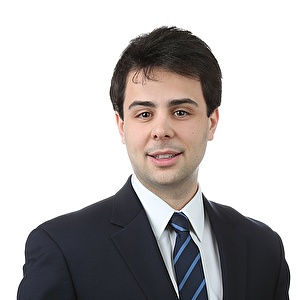 Maxwell Michael
Associate at Faruqi & Faruqi, LLP

New York office
Tel: (212) 983-9330
Fax: (212) 983-9331
E-mail: mmichael@faruqilaw.com