On August 26, 2019, an Oklahoma state court held Johnson & Johnson liable for causing the opioid crisis under an Oklahoma public nuisance law in one of the nation's first opioid crisis cases to go to trial. The court ruled that Johnson & Johnson was responsible for causing the opioid crisis by exaggerating the benefits of its narcotic painkillers while concurrently downplaying its painkiller's addiction risks. More specifically, the court explained that Johnson & Johnson "sent sales representatives into Oklahoma doctors' offices to deliver misleading messages, [] disseminated misleading pamphlets, coupons, and other printed materials for patients and doctors, and [] misleadingly advertised their drugs over the internet. . . . [while] misleadingly tout[ing] the safety and efficacy of opioids as a class of pain medication[.]" Judgment at 25. The Court then explicitly rejected Johnson and Johnson's defense that their misleading statements were constitutionally protected free speech under the First Amendment, explaining that the speech was commercial in nature. Id. at 28.
In making this ruling, the court ordered Johnson & Johnson to pay $572 million to fund an abatement plan that would fund one year of the Oklahoma's costs associated with the opioid crisis. In theory, this amount will permit Oklahoma residents to receive comprehensive addiction care, including early intervention, outpatient services, ambulatory detoxification, intensive outpatient, partial hospitalization, residential care, medically managed detoxification and medication, among other services. Oklahoma had asked for $17 billion to fund this program for 20 years, but the Court explained that "the State did not present sufficient evidence of the amount of time and costs necessary, beyond year one, to abate the Opioid Crisis." Id. at 7.
While this litigation is far from over—especially considering Johnson & Johnson immediately announced that it would appeal this ruling—this decision could very likely prove to be a bellwether for future opioid litigation cases.
About Faruqi & Faruqi, LLP
Faruqi & Faruqi, LLP focuses on complex civil litigation, including securities, antitrust, wage and hour, personal injury and consumer class actions as well as shareholder derivative and merger and transactional litigation. The firm is headquartered in New York, and maintains offices in California, Delaware, Georgia and Pennsylvania.
Since its founding in 1995, Faruqi & Faruqi, LLP has served as lead or co-lead counsel in numerous high-profile cases which ultimately provided significant recoveries to investors, direct purchasers, consumers and employees.
To schedule a free consultation with our attorneys and to learn more about your legal rights, call our offices today at (877) 247-4292 or (212) 983-9330.
About Dillon Hagius
Dillon Hagius's practice is focused on securities litigation. Dillon is an associate in the firm's New York office.
Tags: faruqi & faruqi, 10b-5, faruqilaw, Johnson & Johnson, opioid crisis, Oklahoma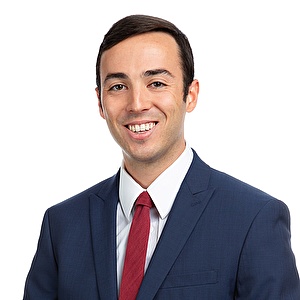 Dillon Hagius
Associate at Faruqi & Faruqi, LLP

New York office
Tel: (212) 983-9330
Fax: (212) 983-9331
E-mail: dhagius@faruqilaw.com